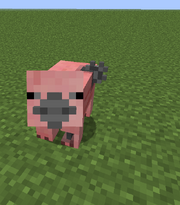 SCP-217 is a virus, incurable by current means, with a rate of infectivity at 100%. It affects all organisms in the kingdom Animalia, and can be spread via touch or contact with bodily fluid. SCP-217 is very hardy, and can survive for years outside the host body. The progress of the infection is very slow, with some subjects going several years before manifesting any symptoms.
SCP-217 alters the biochemistry of organic tissue, causing organic matter to re-arrange into a form of "organic metal". The processes involved with this change are not yet fully understood, but the advanced stages are well documented. A subject will begin to turn into a complex arrangement of gears and clockwork, these taking over for the former biological functions. Advanced-stage infection is reported to be very painful, but earlier stages are oftentimes unnoticed, with only vague feelings of confusion, insomnia, and joint stiffness. Hearts are replaced by gears and small tubes, joints by gear networks, eyes by structures not unlike primitive "hand-crank" film cameras, etc.
SCP-217 shows first on the outside of the body in all creatures except mammals. In mammals, it first converts the internal structure before manifesting outside the body. This can cause those infected to go for very long periods of time without knowing of infection. SCP-217 has even been shown to totally convert the inside of the body before showing any externally-visible symptoms. SCP-217 has infected several major metropolitan areas in the past, most notably ████████████.
The mental state of those in middle to advanced stages of infection has been shown to be much diminished. Subjects respond in a repetitive fashion, are very dull and mechanical in action, are easily distracted and confused, and appear generally irritable when faced with new problems. In addition, research on a fully "converted" brain has is [DATA EXPUNGED]

You can take a mob drop and the SCP-217 bottle in a crafting table and use it to make a SCP-217 INFECTED version of the mob, currently it only works with pigs, zombies, spiders, cows, creepers, and villagers.
Community content is available under
CC-BY-SA
unless otherwise noted.